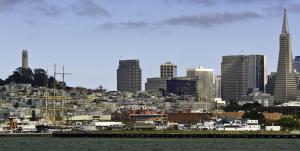 San Francisco is one of those destinations I'd classify as "so close, yet so far away." About two hours by plane, and even drivable in around 16 hours, it is a destination I'd like to visit more often than I do. Fortunately, this past May I did get to spend five days reacquainting myself with "The City by the Bay."
I had spent the previous couple months putting together a detailed itinerary in an attempt to see and photograph as much of the area as possible. But, to paraphrase a native from just north of the area, "The best laid plans…." A warm onshore breeze the entire week covered the area in a blanket of marine layer which resulted in sunsets and sunrises being rendered in shades of gray rather than reds and oranges.
After two failed attempts at capturing a brilliant Pacific Sunset in the beautiful Point Reyes National Seashore, I revised the itinerary to include an extra round of golf and the San Francisco Zoo. Both choices turned out very well.
The San Francisco Zoo was much better than I had anticipated. Having grown up in Seattle with the Woodland Park Zoo and experienced the National Zoo in Washington DC, the Detroit Zoo, the Portland Zoo and, course the Phoenix Zoo, I actually expected to be underwhelmed. Note to Zoo marketing department? However, I ended up spending nearly the entire day (from open to close) traversing its lush and shady grounds with thoughtfully laid out paths. Most of the exhibits were surprisingly quite photogenic and allowed for very good views and picture taking of the inhabitants. The Patsas Monkeys and Penguin exhibit quickly come to mind as highlights, with Lemur Island and the tiger habitat close behind.
My additional day of golf, in lieu of a road trip to Mendocino, was at The Presidio Golf Club. For the $125 greens fee, I had the chance to play one of the more scenic and playable courses around. This course could be the focal point of a golf vacation and I feel may be undeservedly overshadowed by TPC Harding Park, which I also played while in town. The routing of The Presidio Golf Club took me through rolling hills of Cypress and Eucalyptus while delivering on its promise of well-manicured conditions. I would have liked the greens to have run a little faster and have a little more bite to them, but overall the bunkers were well maintained and the fairways, greens and tee boxes what one would expect from a resort course. The Staff was friendly and welcoming, especially the Starters and they even accommodated my desire to take some photos of the course after my round. I definitely will be back.
Dining in San Francisco is an adventure, with $50-100/plate meals lurking on every corner. However, I did find a couple more budget friendly locations offering great food and a charming ambience. The Old Clam House was a last minute choice after a long day. Located in a more industrial part of town, I would not have expected to find such a friendly, comfortable restaurant in the area. As its name would suggest, their specialty is seafood, yet my steak was prepared perfectly despite the fact I arrived less than thirty minutes from closing time. The staff was friendly and attentive and the walls were decorated with photos of the area dating back to the eatery's inception in 1861. Oh, and the clam chowder was awesome!
Another favorite dining spot of mine is the Sourdough Bakery. Located near Fisherman's Wharf, it is a "required" lunch time stopover whenever I'm in the area. The second floor has a very nice sit down dining experience, but I prefer the lower floor and the deli area. While enjoying a roast beef sandwich on some of the best sourdough bread ever made, you can watch freshly baked loaves move overhead via a conveyer belt from the bakery to the deli counter. One can also amuse themselves by browsing through the many crafted bread critters on display and for sale, such as sourdough teddy bears and turtles.
My main purpose of this trip however, was photography and I found Marshall Beach to be the perfect spot for capturing images of the iconic Golden Gate Bridge. A small strip of sand and rock protected by 100+ stairs, it's a quiet and secluded spot for setting up your camera and/or just enjoying the sights, sounds and smell of Pacific Ocean waves. Another location in the area worth mentioning is Muir Woods National Monument. Several well maintained paths lead you through an amazing grove of old growth redwoods, but be warned, get there at when it opens, or be prepared for outrageous traffic jams and hordes of visitors. I left about noon and the roadway leading to the grove and adjacent parking lots resembled the staging area for tool booths on the Bay Bridge during rush hour.
Other photo locations that will be on my next itinerary include Half Moon Bay, Sonoma Coast State Park, Bodega Bay and Battery Point. Because of the heavy layer of fog, I skipped a Battery Point night shoot and the adjacent Cove, but I am hoping the weather cooperates the next time I visit. Additionally, I'm hoping a return visit to Kehoe Beach, McClures Beach as well as North and South Beaches in Point Reyes National Seashore will yield better opportunities for sunset images.
Although the weather forced some improvisation and cancelled some planned photo shoots, my five day visit to San Francisco was a great escape from the late May heat of Phoenix. A short flight time and reasonable airfare makes the City by the Bay a great choice for a week's vacation or even a long weekend getaway.